Xehanort
Talk

145
980pages on
this wiki
When you doubt the path trod thus far, when the hand you held is lost to you, gaze anew at the heart that once was... for all the answers are within.

This article needs to be updated to cohere to the new fansite standard of this Wiki.

You can discuss the proposal on the talk page. Any general questions about the fansite content changes should be directed to this forum.

This article contains additional images to further illustrate its subject. To view them, go to Xehanort's Gallery.
"I'm not Xehanort. My name is Ansem."
—Xehanort
Xehanort was an apprentice of Ansem the Wise and the original persona of Ansem and Xemnas. He was originally "born" as Terra-Xehanort when Master Xehanort forced his heart into the body of Terra then he became simply "Xehanort" when he seemingly lost his memories. He is the main antagonist of the Kingdom Hearts series. Similar to the Organization XIII's members, Xehanort's name contains the letter "X", along with anagrams for "No Heart" and "Another".
Journal entries
Kingdom Hearts II
The former apprentice of Ansem the Wise.
Even after becoming a Heartless, Xehanort persisted in his research of the doors and the heart of all worlds - all in the name of "Ansem", of course.
Meanwhile, his Nobody Xemnas had taken leadership of Organization XIII.
Story
Between Kingdom Hearts Birth by Sleep and Kingdom Hearts
"Master Ansem. Regarding the experiment I presented the other day... With your permission, I'd like to proceed..."
—Xehanort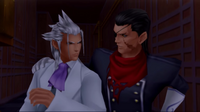 Following the loss of his memories, only retaining his name, Xehanort ended up in the Radiant Garden, where he was found by Ansem the Wise who took him in as his apprentice. With his supernatural abilities (stemming from being a former Keyblade Master), Xehanort quickly became Ansem's foremost apprentice. Eventually, Ansem began to worry about the darkness that lingered within the hearts of others and sought a way to stop it before it consumed his people. Ansem constructed a laboratory under his castle where he, Xehanort and Ansem's five other assistants (Braig, Dilan, Even, Aeleus and Ienzo) would conduct experiments on darkness. However, knowing of Xehanort's true nature, Braig was his sole confidant and offers to aid him in regaining his lost memories.
Xehanort offered to use himself in the experiments, Ansem hoped to unlock Xehanort's memories in addition to uncovering a way to repress the darkness within hearts. However, after the first attempt, Xehanort began to conduct his own experiments to go deeper into the research with the aid of Braig and the other apprentices. To that end, they abducted countless people and locked them within the depths of the laboratory where they are subjected to the horrible experiments with the purpose of controlling the mind, attempting to force it to reject its sense of self, however this accidentally lead to the creation of the Heartless, christened by Xehanort, within the Realm of Light. At this point, Xehanort had taken Ansem the Wise's name as his own and wrote his own report under this stolen name.
Xehanort then began to observe the behavior of the Heartless, branding them while seeing them focusing on living things to fire more Heartless. Xehanort and his associates soon began to slowly accept the darkness, allowing them to have limited control over the Heartless, slowly losing their humanity in the process. When Ansem learned of their actions, he ordered them to cease their efforts immediately. However, Xehanort saw his master as a fool who had no understanding of research and kept the research operating, finding the heart of Radiant Garden by chance that led to the collapse of the world's boundaries, which was seen in the form of a meteor shower. Xehanort also invented a machine within Ansem's lab to create artificial Heartless marked with an emblem to differentiate them from the Pureblood Heartless.
Eventually a visitor showed up named King Mickey on a Gummi Ship he constructed from out of materials from the meteors and used it to visit many different places in search of answers of recent events. Ansem and Mickey met and had huge discussions in which Xehanort learned of the Keyblade, a mysterious weapon that Mickey himself possessed. Xehanort also learns of the seven princesses with pure hearts and how they have a connection to this Keyblade. Xehanort entered the office during their discussion, asking Ansem's permission to test an experiment. Ansem forbade Xehanort to conduct it and told him to forget everything he learned from the research. Suspecting Xehanort, Mickey advised Ansem to check his lab's data, only for the ruler to find his Journal in which Xehanort continued the research under his name.
Ansem ordered his apprentices to seal off the laboratory and cease their scheme for knowledge. However, Xehanort eventually banished Ansem to the Realm of Darkness and had both the seal on the laboratory to be broken and that a room that he called the "Chamber of Repose" be constructed. Once done, Xehanort often went in and spoke as if there was someone else in the room, which Xehanort used to help gain further recollection about his past. Around this time, as the Heartless begin to surge out of Radiant Garden, Xehanort restored the MCP and Sark to its OS.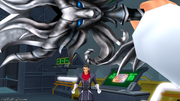 Xehanort made the final pages of his report, which outlined his intentions as well as those of the Heartless: To seek Kingdom Hearts. Xehanort decided to use the Heartless' instincts to make his own plans to gain ultimate power, control, and knowledge. After knocking out Ienzo and Even in the lab, Xehanort summons a Keyblade then lunges it at Braig. While Braig is falling down, asking if he is truly Master Xehanort, Xehanort states that his name is Ansem before using the weapon on him. While he created Heartless from the apprentices, Xehanort learned about the Nobodies prior to his own division into two new beings: the Heartless that called himself "Ansem" and the Nobody known as Xemnas. With both components having the memories and personality traits of their original self, "Ansem" and Xemnas act on the goal to obtain Kingdom Hearts in their own way.
"Xehanort. Foolish apprentice of a foolish man."
—Ansem the Wise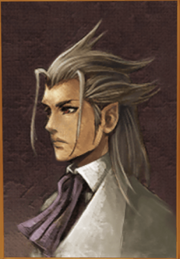 While investigating Ansem the Wise's study within Radiant Garden, Sora, Donald and Goofy find a portrait of Xehanort, believing him to be Ansem, as it was removed by Tifa to reveal the password to the DTD. After running into King Mickey, he reveals the truth of "Ansem"'s identity as a Heartless of an impostor yet could not remember the name. However, during the battle of the 1000 Heartless Mickey remembers Xehanort's name upon seeing Xemnas. In the World That Never Was, King Mickey encounters Ansem the Wise and learns that his goal is to destroy Xemnas's artificial Kingdom Hearts and exact revenge on Xehanort for stealing his name and pride. Ansem repeatedly used the name "Xehanort" to insultingly refer to Xemnas.
After their revivals, Dilan, Even, Aeleus, Ienzo, and Lea search through Radiant Garden's lab for Xehanort after its restoration, Braig and Isa rehang the portrait of Xehanort in Ansem's Study.
Personality
As one of Ansem the Wise's apprentices, Xehanort appears to have had a very professional and no-nonsense attitude, shown by his determination in his studies. He appeared to be easily annoyed by Braig and was shown to be equally as interested in the darkness of hearts as his original incarnation Master Xehanort. Xehanort appeared frustrated when Ansem forbade him from continuing his studies and experiments, and ultimately disobeyed his master. Ansem the Wise later refers to Xehanort as "foolish" and that any world of his "would be an empire of ignorance".
Appearance
Xehanort wore a white lab coat with rather loose sleeves that is partway zipped down. The coat also has pockets roughly where Xehanort's hips would be. He wears black boots (that are identical to those worn by his Heartless half Ansem, his Nobody half Xemnas, the members of Organization XIII, his original incarnation Master Xehanort), with a white/silver lining along the top and an indentation on the sides.
Underneath his coat, Xehanort wears a grey vest overtop a white collar shirt, along with a purple ascot around his neck. During this time, his hair is worn long, with two bangs framing his face. His hair also sports three backward-facing spikes, one at the top of his head, and one on either side, just above his ears. In addition his eyes have turned brown. During his time as Ansem's apprentice, Xehanort seems to share a lot of features with Young Xehanort but kept Terra's body and face.
Trivia
In the Japanese version, Xehanort is voiced by Akio Ōtsuka, the son of Chikao Ōtsuka, the Japanese voice actor of Master Xehanort. Tetsuya Nomura cast Chikao for this particular reason.
Xehanort's two anagrams have been referenced in two separate ways:
In Kingdom Hearts II, Xehanort shares a lot of features with his Heartless persona "Ansem" and Nobody persona Xemnas. Whereas in Kingdom Hearts Birth by Sleep, Xehanort's features shows elements to his "newborn" counterpart Terra-Xehanort.
See also