Hello again toons! Here comes a hard one, so be ready!
Again I fell some wierd rose smell... Bizarre.
Edit
After the inicial cutscenes, approach the beast and ask him what's up. Go foreward to the ballroom to see the famous scene. But... Xaldin again! Fight the Noobies and go speak with beast. Follow him to his room, talk, get out, come back in and press
. Ooo! Preety!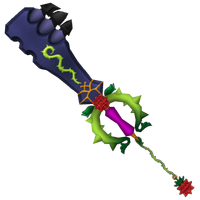 Rumbling Rose
Now head outside! On the way, Xaldin will find you and unleash... more Noobies. *sight*Now go outside for... O.O
Maybe... I just wish I knew what I was doing here. How I got here...

This is a filler template!
This notice stands in place of the Infobox Pedrokingdomhearts template, which no longer works.




If the author would like this template restored, please contact the Staff

Well, we already have our prize. Time to go.