OK..no talk...more cutscenes.....

The cloaked man talks to the weird man about making???? a?? beach????.....and it seems the cloaked man has Olette's Munny Pouch...after the conversation....well
more static memories... >_>
we see a blonde girl.....then nothing.....hmmm weird!!!!....what?..was the girl right....never min-
DAY 3
HEY YOU CUT ME OFF!!!!

Anyways....a note says for Roxas about the beach and munny. Anyways SAVE then go out of the Usual Spot.
Then go to the Station Heights for a cutscene...
Pence and Olette say morning to Roxas then...they've frozen?..eh?...Production staff is this your work??....anyways...the girl from Roxas' dreams appears and has a small talk. Pence and Olette then froze and talks about what they did..yeah yeh yeah...WHAT JUST HAPPENED!!!!!!!!!!!!!.....
Ok after a few short cutscenes.....now in the forest well Dusks appear great.....after fleeing..more great Seifer.....Time to fight those Dusks....Fight them or hit them then another cutscene will appear...
After failing again....well now Seifer's team is frozen and now come for Roxas...even more great >_>....
The girl from Roxas' dreams appear again then....well.....
Roxas is now transported....
Now once again choose..Staff, Shield or Sword. (also BTW Dusks are out of the surface WTFudge?)...after choosing time to fight for real now!!!
Defeat the Dusks!!!!
After their defeat YEAH! a treasure chest...open it!!! But first equip your new Ability..It'll help..
Time to now open the door to darkness but first SAVE!!!!
Now from here Dusks will show up, defeat them or run, there is also a treasure chest, I would suggest you get it then carry on to the top and go through the door.....for something expected with the unexpected either way expected....
Time for your first real fight...
Nobody Battle: Twilight Thorn Bush

HP: ???
Difficulty: Medium
Fun Rating: ****

Strategy:

Firstly as soon as the fight occurs the Thorn will cast a spell...you cannot do anything... but wait, from there a white flash will appear and Roxas will be trapped, the Thorn will try to attack, then use , then do it again, afterwards he is gone then the Thorn will tilt the building, use again to counter his attack and finally he will be stunned and then go into the attack. After the Thorn regains consciousness, it will use "thornswires" to attack you, just press to dodge them, when near his face attack him. Afterwards he will try and smack you then go into position by summoning Creepers and more thornwires, adjust and pick a time to attack. Destroy the Creepers to gain HP balls, he will then start the process again, rinse and repeat..

For a reward you get MAX HP increase and Guard ability.
After the battle Roxas nearly gets sucked into the darkness until a hand clears it up and Hey its the girl from Roxas' dream and Hey she's got a NAME, called NAMINE. After an intervention by the man in the cloak well....
Roxas wakes up and Seifer takes the glory of "defeating" the Dusks....
Hayner sees Roxas with Seifer's gang and well...Hayner leaves...angry.......
Back at the Usual Spot well....no Roxas..no beach.....
Well I'm getting into too much depth...oh well....well this is awkward...
now more static memories.....and now at 48% and now more talk to the weird guy and the cloaked man.

DAY 4
A promise....well..ok?....NOW today is the Struggle tournament...get to the Sandlot!!!
Well uhh ok.....ur there already >_>....hmmmmm..anyways, after an announcement...well time to learn how to do Struggle afterwards time for the the Quarter Finals...
Saev if you need to then go over to a guy with a white shirt and orange neck clothes...that didn't come out right...oh well....
After that talk to the announcer to start the quarter finals...
.........against Hayner, get those balls!!..ok THAT didn't come out right...just WIN!!!.
Hayner strategy:Ok this is a simple hit and run, also watch out for his counterattacks, and get the blue balls!!
WHAT THE WHEN DID VIVI GET THAT STRONG AND BEAT SEIFER!!!!!, also now Vivi is in the Semi-finals....
Now onto the Semi Finals....
again for the semi-finals talk to the announcer.....
Vivi??????? strategy: He is waaay swifter than Hayner, just do the hit and run and watch out for his swirl move as it takes alot out, just be cautious in attacking him.
What the..Vivi turned into a Dusk!!!!...time for more senseless attacking....you know what to do.....
After the fight a red haired guy appears and well....do we know him???.......Roxas then goes into a tantrum and well so does Axel....time to fight!!
HP: ???
Difficulty: easy
Fun Rating: *****

Strategy:

He is waaaaay swifter than Vivi(Duh!), really it's the same...attack when he is opened or not doing anything and well..that's about it....however he does have a desperation move, just guide your way away from it and don't get caught otherwise you will lose alot of HP.

No reward....right......and now the weird guy and Axel does a psychological attack on Roxas and well Roxas shouts...and now both the weird guy and Axel disappears. Vivi has no recollection and now Roxas now in the Finals...against Setzer....<LA:poser>......
Well last part people...talk to the announcer one last time....
Setzer strategy: Same as Vivi's tactic however less as he is waaaay less swifter than Vivi.....just keep away and attack when need to...
Roxas as a reward gets the trophy and a belt for him being champ...YAH!!!
Clock Tower again....and well the gang does a gang thing and get the crystals to the sunset...nice.....and well not nice...more static....
eh?...Kai- KAIRI!!!!!!!!!!!!!!...what in the what what what
<LA goes into disbelief>
Ok so wait in one year Kairi had a growth spurt and went HOTTER?!?!?!?........see the comparison...
------->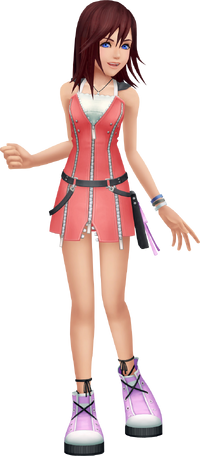 Ohh sorry Stormies for that outburst anyways...she and Selphie has a talk about a certain someone and Riku......
more static......>_>
and now a freefall psyche talk with Kairi and Roxas about Sora....and wow well that is one looooooooooooooooooooooong fall Roxas :P
back with Kairi well.....not much.....until they get to the beach where she writes a letter for that certain someone......Owwwwww Kairi!!!!
Restoration at 79%....and now more talk with the weird guy and the cloaked man., and well the cloaked man finally reveals himself as..ANSEM?!?!??!?!. ok?
Well that sums up Day 4....time for Day 5 in the next section...seeya Stormies!!!
Ad blocker interference detected!
Wikia is a free-to-use site that makes money from advertising. We have a modified experience for viewers using ad blockers

Wikia is not accessible if you've made further modifications. Remove the custom ad blocker rule(s) and the page will load as expected.