Ok now it seems we have missed some really cool weapons....here's a little gallery of the ones we missed.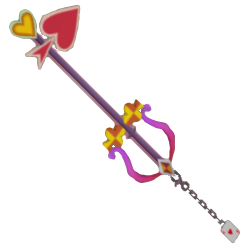 Ok let's find them! Aye!
Save the Queen
Complete the Hades Cup alone, which means starting from the 50th seed to the 1st, Sora, alone must defeat everything there......good luck!
Save the King
Complete the Hades Cup within the time limit...good luck!
Dream Rod
Speak to Merlin once you have obtained all 7 three tier spells.....
Dream Shield
Speak to Merlin when you have obtained all 7 Arts from the White Mushrooms......here's a list on what to do.
First find them
In order to get an Art you must use a magic that the Mushroom "charades" 3 times in a row.
White Mushroom shivers = Fire
White Mushroom bends down and fans itself = Blizzard
A light appears above the White Mushroom = Thunder
The White Mushroom falls to the ground = Cure
The White Mushroom floats into the air = Gravity
The White Mushroom freezes in place = Stop
The White Mushroom spins around rapidly = Aero
Lady Luck
From the Bizzare Room on the side room, light the candles to make a picture appear, from there go into it. Once inside you'll be back to the Lotus Forest, there is a White Trinity, jump on it and there is a treasure chest. Lady Luck is in there.

Main Hub | <- To thee Ultimate Weapon | Let's find those marks ->
Ad blocker interference detected!
Wikia is a free-to-use site that makes money from advertising. We have a modified experience for viewers using ad blockers

Wikia is not accessible if you've made further modifications. Remove the custom ad blocker rule(s) and the page will load as expected.