Master Vantius/Sandbox/Sora
Talk

0
980pages on
this wiki
Welcome to the Keyhole Rewrite of
Sora
! Feel free to make edits to this page, but I enact my control over my userspace, if an edits are bad. Vandalism will result in a warning.
This page is a more fan-friendly version of an article. You may be looking for the official one.
"I don't need a weapon! My friends are my power!"
—Sora
Sora is the main protagonist of the Kingdom Hearts series, as well as a Keyblade wielder. He is an upbeat teenager who may seem simple-minded at times, but is very aware of the importance of his quest. He possesses a strong sense of justice and an unrelenting heart. At times he is impulsive and quick to anger when defending his friends, but he is always sincere about what he says and does. He has also been best friends with Riku and Kairi since he was a small boy.
Sora is four during Kingdom Hearts Birth by Sleep, fourteen years old at the beginning of Kingdom Hearts and Kingdom Hearts: Chain of Memories, fifteen during the events of Kingdom Hearts II, and sixteen in Blank Points. He lives on Destiny Islands with his best friends Kairi and Riku, and all three of them dream to venture from Destiny Islands to find out what lies beyond. Sora is also the original persona of his own Heartless and Roxas, the source of Xion's memories, and the carrier of Ventus's heart. Sora's name is derived from the Japanese word for "sky".
Story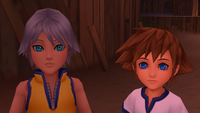 Sora and Riku are shown as best friends and rivals as they grew up. They are often seen around the islands battling with wooden swords, racing, and doing anything else that is competitive.
During the game, Sora sees Terra and Aqua on the island on separate occasions. He never speaks with Terra, due to Terra not sensing his potential and focus on Riku. He does talk with Aqua, however, and promises to protect Riku if he ever falls into darkness. Ventus had visited Destiny Islands multiple times, but he never met Sora. Near the end of the game, Sora is sent to the Awakening where he encounters Ventus's lost heart, which asks if it could join Sora's heart because it had lost its way and must return to sleep. Sora accepts, saying that as long as he can make it happy by doing so, he is willing to.
While growing up on Destiny Islands, Sora aspired along with his friends, Riku, and Kairi, to travel to places beyond their small island home. Over the course of three days, the trio build a raft so they can fulfill their dream. One night, a fierce storm appears on the islands. Worried about the condition of their raft Sora sneaks out of his house to check on it. Little did he know that he would be caught in the middle of the Heartless invasion. While trying to escape from the Heartless Sora gain the power of the keyblade and is transported to Traverse Town. Coming to grips with recent events, Sora makes new friends in Donald and Goofy.
Sora travels from world to world sealing the world's keyhole while he searchers for the whereabouts of his friends. Throughout his journey, he has several encounters with his friend and rival, Riku. The revelation that Riku had succumbed to darkness shocked him. But, Sora still saw him as a friend. Eventually, Sora reaches Hollow Bastion, the location of the final keyhole. There he learn that he has been harboring Kairi's heart. To release her heart, Sora stabs himself with the Keyblade of People's Hearts. Consequentially, he becomes a heartless, but Kairi used her standing as a Princess of Heart to restore Sora. Sora travels to End of the World, the "Heartless world" of all the worlds that fell into darkness, where he confronts and defeats "Ansem" once and for all. "Ansem", defeated, calls forth to Kingdom Hearts to fill him with the power of darkness, but Sora proclaims that Kingdom Hearts is not darkness, but light, and "Ansem" is destroyed by the said light.
After closing the Door to Darkness, Sora continues to search for Riku and King Mickey. The path he was following lead him to Castle Oblivion. Upon entering the castle, all of Sora's abilities are forgotten. The further Sora ventured into Castle Oblivion, the more memories he lost. Eventually, his memories of Kairi were replaced with false ones of Naminé. Sora becomes confused when he arrives in Twilight Town, a world he never been to. Eventually, Sora learns that he is being manipulated by Marluxia so he can be used to take control of Organization XIII. Throughout his journey, he encounter the Riku Replica, believing it to be real and confused as to why Riku is attacking him. In order for Sora to go regain his lost memories, Sora go to sleep in a Memory Pod. Knowing that he would forget Naminé, Sora promises her that while she was forgotten, she would remain somewhere in his heart, never lost.
"A scattered dream that's like a far-off memory. A far-off memory that's like a scattered dream. I want to line the pieces up... yours and mine."
—Sora in the beginning of Kingdom Hearts II
After a year of sleep, Sora awakes form his memory pod in Twilight Town. After receiving new clothes, he sets out reconnecting the worlds by opening new gates. Throughout his journey, he defeats the remaining members of Organization XIII, who will refer to him as Roxas, leaving Sora confused. During the Battle of Hallow Bastion, Sora and company are saved from the nobodies by Maleficent and are sent into the Realm of Darkness. This was only temporary. Upon arriving in the World that Never Was, Sora encounters Roxas for the first time, unaware that he is his nobody. As Sora battles through the Castle that Never Was, he is reunited with Kairi and a disguised Riku. Sora reaches the Altar of Naught and confront and defeats Xemnas. However, Xemnas prevents Sora and Riku form returning to Destiny Islands with the others. Finally, one Xemnas is truly defeated, Sora is trapped in the Realm of Nothingness. Eventually, he arrives to the Dark Margin. There he discovers Kairi's letter. Reading the letter, the Door to Light opens taking Sora and Riku home.
Later, after Sora has received Mickey's newest letter, he sits on the Paopu tree while holding the message from King Mickey, staring off into the sunset.
It is revealed that he has now read the contents of the message and must venture out on a new quest to find Terra, Aqua, and Ven, as well as the others connected to him, and save them from their suffering. As he says goodbye to Kairi, she gives Sora her Wayfinder again, telling him, "See you soon."
Personality
Sora has a typical brave and heroic personality, meaning he'll willingly risk his life for people he doesn't even know yet, as shown when he tries to save Ansem the Wise from the explosion, to no avail. He's extremely loyal to his friends, and has been shown to be extremely forgiving to Riku, and is highly protective of Kairi. He constantly thinks positive and is therefore highly optimistic. Throughout his journeys, he readily puts aside his own personal goals to help those in need.
Sora is an upbeat person, and although he is simple minded at times, he has a strong sense of justice. Sora is more confident than before and takes charge of his group. He is also quite caring and reassuring to his other-world friends such as when Beast quits after Xaldin steals his rose. Sora reassured him that they would get it back.
Sora seems to have a remarkable capacity to forgive, even to his sworn enemies; when Maleficent loses control of the Heartless to Organization XIII and is overwhelmed by Dusks in order to allow Sora's group to escape, Sora is clearly concerned for her and is only stopped from helping her by being restrained by Donald.
On the other hand, Sora shows little tolerance for cowardice and selfishness, criticizing both Hades and Iago for being cowardly and selfish, though ultimately forgiving the latter when he proved genuinely sorry for his actions.
Like most children his age, Sora shows a highly competitive streak, as he often competes with Riku over numerous things, mostly for Kairi's affection and attention. Also, when he asks to fight Hercules alone in the Hercules Cup, Donald calls him a show-off, and Goofy says in Chain of Memories, "Whenever there's a contest, you're always rarin' to sign up". He doesn't like to be called a kid, but prefers to be called Sora.
Though he is far from stupid, Sora has often seen to be highly gullible and oblivious to what should be obvious. For example, he fell for Mulan's attempt at passing for a man; proceeding this, Mushu stated that Sora "could fall for anything". Ironically, he doesn't let his enemies fool him as easily. An example would be when he didn't fall for Xemnas's attempt to play on Sora's sympathetic side, which was far more convincing than Mulan's attempt to appear as a man.
On occasion in Kingdom Hearts II, Sora seems to unintentionally show somewhat of a disrespect towards people of higher authority than himself upon meeting them. For example, when meeting Yen Sid, Donald and Goofy respectfully bow to him, while Sora greets him by simply saying, "Hey there!". Goofy is clearly shocked by this, and Donald shouts at him to show some respect. When meeting Queen Minnie, Sora simply asks, "Where's the King?". This leads to Donald grabbing him by the ear and asking Minnie to excuse him. When Sora and King Mickey were disputing about Ansem's identity, Sora, thinking that he has forgotten who Ansem is, drags King Mickey by the arm in order to show him the portrait of Xehanort in Ansem's study. However, when meeting Princess Jasmine again in Kingdom Hearts II, he actually does bow to her, along with Donald and Goofy. He, Donald, and Goofy also bow in respect to Simba as the new king during their second visit to the Pride Lands.
Relationships
Best friends from since childhood, Sora and Riku were inseparable. As a result of their bond, the two are constantly competing to see who's best or get Kairi's attention. The reason for their competitiveness is because of their desire to be like the other. Throughout his adventures, Sora has encountered Riku on several occasions. In Kingdom Hearts, these encounters usually involved Riku trying to kill Sora, yet Sora sill forgave him and continued to search for him during the events of Kingdom Hearts II.
Sora's love interest. While he doesn't openly admit it, his protective nature of Kairi shows his affection for her. We can also assume they shared a Poupu Fruit. During, Kingdom Hearts, Sora would see Kairi talking to him and cause him to experience flash backs.
Mickey is Sora's mentor and idol. Sora's has turned to the King on several occasions for guidance. During, Kingdom Hearts II, Sora would enquirer with Mickey about Riku's wear abouts.
Appearance
Sora first starts off appearing tanner and somewhat lankier than his rival Riku. He seems to portray more of a typical teenage boy's looks. Sora has spiky brown hair (although in Kingdom Hearts II his hair does change from a dark brown to a more caramel color) along with blue eyes. Sora's appearance does not change that much throughout the series besides growing taller, a slightly different hair style, tanner skin, a slightly deeper voice, and having more matured looks. Sora goes through many costume changes throughout the series.
As a child, Sora's hair was lighter than it was in Kingdom Hearts, more closely resembling his hair color in Kingdom Hearts II, and it was not as spiky. Clothing-wise, Sora wore what looks like a white T-shirt with blue lining and red shorts with a maroon pocket on each leg, as well as brown sandals with yellow straps.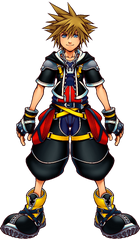 His outfit considerably changes in Kingdom Hearts II as it turns into a black and silver outfit that, while remaining baggy, is like his original outfit. It contains a darker style using many zippers and extra leggings but still retains his crown necklace. With the institution of Drive Forms, his outfit can turn into different appearances for Valor Form, Limit Form, Anti Form, Wisdom Form, Master Form, and Final Form.
While he retains his typical appearance in most worlds, in certain worlds Sora's appearance is altered, either by Donald's magic or his magical Kingdom Hearts II outfit, in order to allow himself to blend in with the inhabitants of those worlds.
His appearance alterations are listed here:
In Kingdom Hearts 3D: Dream Drop Distance, Sora's new outfit combines elements from his attire in both Kingdom Hearts and Kingdom Hearts II. The new outfit contains large yellow shoes, a silver and black overjacket with red and white trimming, a black vest with an "X" on the front, red pants and a pair of black with yellow gloves with his signature crown necklace and crown chain.
Abilities
Sora has become very powerful over the length of the series, being able to slay over a thousand Heartless without rest but slightly tiring after, fight and defeat all but a few members, who Riku, the Riku Replica, and Axel defeated, of the powerful Organization XIII. Sora is also able go head-to-head against legendary swordsmen such as Cloud, Leon, and even Sephiroth , and fight and defeat the countless Disney villains that have faced him.
However, Sora is nearly helpless without his Keyblade. Even Shadow Heartless take a huge number of hits for him to kill without it. However, before he left Destiny Islands, he could not even damage the Heartless without the Keyblade. When Sora is not in possession of his Keyblade, his only available weapons are the sparring weapons, Wooden Sword and Struggle Bat.
In Fandom
Fanfics
In fanficitions, Sora is usually the hero of the stories. If not, he will have a play the sidekick or the mentor to the main character. He will usually take on the personality of his canon character, and oftentimes, his relationship with Kairi is a focus, reaching the so waited moment when they become a couple. Sora is also really often shown being a rival to either Roxas or Riku, showing mostly competitivety between them. About his appearence, He is most of the time shown in his older self, like in Kingdom Hearts II, with some things slighty changed, but that varies from writer to writer. Sora is always despicted as a brave young man, willing to give his life for his friends, and caring a lot about helping others, whcih don't differ too mcuh from his Kingdom Hearts self.
Cosplaying
Sora is one of the most popular cosplay characters and tend to be cosplayed by both genders. Most of the times, they use his Kingdom Hearts II incarnation, slighty older and more mature. Also, it's not very hard to cosplay Sora — one only really needs a brown wing, one of Sora's various outfits, and also a Keyblade. He usually have a large variety of Keyblades, but Kingdom Key, Oblivion and Oathkeeper are the most used ones.
Sora has already a huge variety of costumes other than his basic outfits, but Cosplayers tend to go even further and create fresh new designs for him, such as one based off Deep Jungle, where Sora assumes the form of a wild teen, wearing nothing but his pendant and a toga made of animal skin
Theme
Kingdom Hearts II
Theme - Sora
Trivia
Although none of the parents of the characters on the Destiny Islands are shown on screen, Sora's mother can be heard calling him for dinner during the calamity in the first game. Also, in Kingdom Hearts: Chain of Memories, Sora mentions both his mother and father while reminiscing about Naminé, and Riku mentions Sora's father to Terra in Kingdom Hearts Birth by Sleep.
In Kingdom Hearts and Kingdom Hearts II, during every cutscene involving a Keyblade, Sora wields the Keyblade the player has equipped. The only cutscenes where this doesn't apply are the scenes when Sora and King Mickey seal away Kingdom Hearts, when Riku temporarily takes the Keyblade from Sora in Hollow Bastion, and before the Battle of 1000 Heartless in which he has the Kingdom Key. In the scenes with Riku, the Keyblade retains Sora's Keychain while in Sora's possession but reverts to the Kingdom Key while in Riku's hands.
See also