Welcome to Le Keyhole!

Ye Olde Kingdom Hearts Fansite where anyone is welcome!

With 980 articles and growing, we are a fantastic source of all things related to Kingdom Hearts!

The featured user for December is Chainoffire, who has made a total of 10,793 edits on The Keyhole! Over the past 6 months or so Chain has been SERIOUSLY stepping up his game to a whole new level. He is by right the pulse of this wiki. Chain not only works tirelessly to keep this wiki afloat and alive, but he is also a fellow terminator in the JPG Genocide. Plus he's the ruler custodian of the Underdrome! When he isn't kicking a** butt and taking names, Chain acts as the welcoming committee for new users and is the first to help anyone who asks for it. Chain is not only a great editor but also a great friend who is extremely fun to talk to about anime or anything else really. As an anime lover like the rest of our staff, Chain has an anime review page where he has reviewed countless anime. His favorite anime series is Fate/Zero! Congrats Chain and keep up your amazing work!!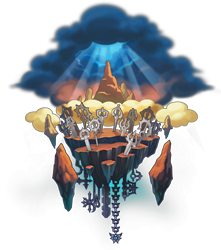 "On this barren soil, Keyblades of light and darkness were locked in combat, as a great Keyblade War raged. Countless Keyblade wielders gave up their lives, all in search for one, ultimate key"
The Keyblade Graveyard is a world that appears in Kingdom Hearts II Final Mix, Kingdom Hearts Birth by Sleep, and Kingdom Hearts Birth by Sleep Final Mix. It was first revealed in the secret ending of Kingdom Hearts II, "The Gathering". (more....)

Recently featured: List of Unversed - Halloween Town - Mickey Mouse