Ad blocker interference detected!
Wikia is a free-to-use site that makes money from advertising. We have a modified experience for viewers using ad blockers

Wikia is not accessible if you've made further modifications. Remove the custom ad blocker rule(s) and the page will load as expected.

Issue 8 of the Twilight Times is available!

News! Fights! Tutorials! Reviews! Games!
Plus the latest episode of our own wiki podcast!

Click here to see the joint project between the Keyhole and our sister site, the KHWiki!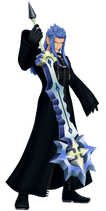 "If I had a heart, this would be where I'd die of laughter."

Saïx (spelled Saix in Japanese media), the Luna Diviner (月に舞う魔人, Tsuki ni Mau Majin?, lit. Demon Dancing in the Moon), is the Nobody of Isa, Rank VII within Organization XIII, as well as the second-in-command to Xemnas and a major antagonist in Kingdom Hearts II, Kingdom Hearts II Final Mix and Kingdom Hearts 358/2 Days. He derives power from the Moon, and uses this power to enter a berserk rage where he mercilessly attacks opponents with his massive claymore. He commands the Berserker Nobodies. (more....)
September 21st, 2016 - Tons of new updates for Kingdom Hearts Unchained χ, breathtaking Play Arts Figures for 2017, a new album for Utada Hikaru, a new trailer for Kingdom Hearts HD 2.8 Final Chapter Prologue, long time users Aixon and Draaek have been promoted, and even more in the latest edition of Jiminy's Journal!
June 18th, 2016 - A Kingdom Hearts orchestra world tour has been announced, we have a new trailer for Kingdom Hearts HD 2.8 Final Chapter Prologue, Kingdom Hearts Unchained χ has been released in 100+ countries worldwide, and we say goodbye to our beloved admin LegendAqua, all in the most recent article to appear in Jiminy's Journal!
April 7th, 2016 - Kingdom Hearts Unchained χ has been released in North America, Utada Hikaru is making a return to the music industry, Cloud's voice actor adds to the suspense surrounding Kingdom Hearts III, the Kingdom Key has made an entrance in Disney Infinity 3.0, and there's wiki news to read about too, all in the latest journal update!
January 8th, 2016 - 2016 is here! Big Hero Six will make its first appearance in Kingdom Hearts III, Kingdom Hearts Unchained χ has been released in Japan, Kingdom Hearts HD 2.8 Final Chapter Prologue has been announced, Yoko Shimomura discusses composing for the Kingdom Hearts series and there's more to read in the latest update to Jiminy's Journal!
June 20th, 2015 - Tangled is coming to Kingdom Hearts III, trailers have been revealed for Kingdom Hearts III and Kingdom Hearts Unchained χ, and we round up this half-year's Kingdom Hearts and Keyhole news in our latest journal entry!
Looking for ways to help out? Why not have a go at some of the projects below?
The End of Jpgs: Are you able to convert .jpg images into .png format? Have a go at ridding the Keyhole of .jpg images!
Treasure Chests: We can't find all of the treasure chests, help us look for them!
Project χ: Kingdom Hearts χ is here, and we need your help to get the information and images we need.
Dead Images: A group of our images have retreated to the darkness of the Keyhole. Do you have an idea for what we should do with them?
List Talk Pages: With the recent creation of list articles, a lot of talk pages are now going unnoticed. Help us figure out how to use them!
Gameplay Galleries: Help add a new section to our various character galleries!
Kingdom Hearts Unchained χ: Unchained χ has officially been released around the world! We need help to add all game-related information to our wiki!
Org art: Prove your endurance and find a home for our artwork of the notorious Organization 13!