Issue 8 of the Twilight Times is available!

News! Fights! Tutorials! Reviews! Games!
Plus the latest episode of our own wiki podcast!

Click here to see the joint project between the Keyhole and our sister site, the KHWiki!

For the past few years there has been a user who has risen through the ranks here and became this wiki's life and breath. So much can be said about this user that there's simply not enough words in these description. This user has not only proven himself as a dedicated editor and contributor of the Keyhole clocking in a total of 4,234 edits; but also as a great and valued friend, and a tremendous help to all new users trying to begin to take their first steps on this wiki as we all did after our birth here. Which is why Aixon is this year's featured user. Aixon always has a cheery demeanor about him and always takes the time out to help those in need. His main work was on the Dream Drop Distance pages and he is a fan of Roxas. Aixon is moderator here which took him only a year to accomplish. A lesson to all about what hard work can accomplish. Congrats Aixy on all your success and may you continue to do what do; Kicking virtual tail and taking virtual names!

"Ever since then, he holes himself up in that room and he talks to someone..."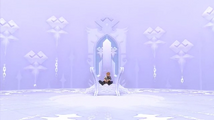 The Chamber of Repose and the Chamber of Waking are mysterious rooms that seem to hold some great importance to Xemnas, due to their connections to his past. Xemnas often sits in the Chamber of Repose in order to regain memories of his past as Terra and Master Xehanort, and seeks the Chamber of Waking in Kingdom Hearts 358/2 Days and Kingdom Hearts II Final Mix. (more....)
June 18th, 2016 - A Kingdom Hearts orchestra world tour has been announced, we have a new trailer for Kingdom Hearts HD 2.8 Final Chapter Prologue, Kingdom Hearts Unchained χ has been released in 100+ countries worldwide, and we say goodbye to our beloved admin LegendAqua, all in the most recent article to appear in Jiminy's Journal!
April 7th, 2016 - Kingdom Hearts Unchained χ has been released in North America, Utada Hikaru is making a return to the music industry, Cloud's voice actor adds to the suspense surrounding Kingdom Hearts III, the Kingdom Key has made an entrance in Disney Infinity 3.0, and there's wiki news to read about too, all in the latest journal update!
January 8th, 2016 - 2016 is here! Big Hero Six will make its first appearance in Kingdom Hearts III, Kingdom Hearts Unchained χ has been released in Japan, Kingdom Hearts HD 2.8 Final Chapter Prologue has been announced, Yoko Shimomura discusses composing for the Kingdom Hearts series and there's more to read in the latest update to Jiminy's Journal!
June 20th, 2015 - Tangled is coming to Kingdom Hearts III, trailers have been revealed for Kingdom Hearts III and Kingdom Hearts Unchained χ, and we round up this half-year's Kingdom Hearts and Keyhole news in our latest journal entry!
January 8th, 2015 - The cover for Kingdom Hearts: the Novel is revealed, Goofy's VA hints at a 2015 Kingdom Hearts III release, the latest issue of our wiki mag is out, a project to enhance the Keyhole and KHWikia is launched, user Chainoffire has been promoted to bureaucrat and *gasps for breath* there's even more in this journal update!
Looking for ways to help out? Why not have a go at some of the projects below?
The End of Jpgs: Are you able to convert .jpg images into .png format? Have a go at ridding the Keyhole of .jpg images!
Dead Categories: Some of our categories aren't being used. Do you have a use for them?
Project χ: Kingdom Hearts χ is here, and we need your help to get the information and images we need.
Articles in need of images: Help pretty up our articles by uploading images according to the requests in this category.
List Talk Pages: With the recent creation of list articles, a lot of talk pages are now going unnoticed. Help us figure out how to use them!
Gameplay Galleries: Help add a new section to our various character galleries!
Kingdom Hearts Unchained χ: Unchained χ has officially been released in the North America region! We need help to add all game-related information to our wiki!
Org art: Prove your endurance and find a home for our artwork of the notorious Organization 13!