Issue 4 of the Twilight Times is available!

News! Fights! Tutorials! Reviews! Games!
Plus the latest episode of our own wiki podcast!

Click here to see the joint project between the Keyhole and our sister site, the KHWiki!

"You have poured so many memories into me...given me so much... that I feel like I'm about to overflow."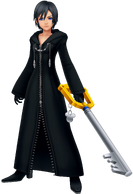 Xion is the fourteenth member of Organization XIII, first appearing in the game Kingdom Hearts 358/2 Days, in which she could be viewed as both a main protagonist and antagonist. She is not a normal Nobody and is only a nominal member of the Organization. Because of this, she does not have a throne in Where Nothing Gathers, nor does she have a title or a breed of Nobody to control. Instead, she is an imperfect Replica of Roxas created from his leaked memories as a fail-safe in case both Sora and Roxas proved to be useless to Organization XIII's plans. (more....)
January 8th, 2015 - The cover for Kingdom Hearts: the Novel is revealed, Goofy's VA hints at a 2015 Kingdom Hearts III release, the latest issue of our wiki mag is out, a project to enhance the Keyhole and KHWikia is launched, user Chainoffire has been promoted to bureaucrat and *gasps for breath* there's even more in this journal update!
December 4th, 2014 - Kingdom Hearts HD 2.5 ReMIX is out in North America, released alongside interviews, launch events, trailers and more! Back here, the Underdrome enters its final stages and the Keyhole/KHWiki End of Year Event is underway!
November 10th, 2014 - HD soundtracks, a Kingdom Hearts HD 2.5 ReMIX wall scroll, a Sora Play Arts Kai figure and a collector's edition of Kingdom Hearts HD 2.5 ReMIX are all on their way!
October 13th, 2014 - Kingdom Hearts HD 2.5 ReMIX and the Kingdom Hearts Memorial Ultimania have been released, a Kingdom Hearts instagram and Keyhole tumblr are up and running and the second issue of our wiki magazine, the Twilight Times, is available!
September 29th, 2014 - There are new screenshots for Kingdom Hearts HD 2.5 ReMIX, soundtracks for both HD remixes have been announced, Fenrir, Sleeping Lion and Ultima Weapon keychains are on their way and Famitsu Weekly featured a special interview with Tetsuya Nomura!
Looking for ways to help out? Why not have a go at some of the projects below?
The End of Jpgs: Are you able to convert .jpg images into .png format? Have a go at ridding the Keyhole of .jpg images!
Music Files: Move any and all .ogg files to the appropriate soundtrack pages and put them in a gallery.
Dead Categories: Some of our categories aren't being used. Do you have a use for them?
Articles in need of images: Help pretty up our articles by uploading images according to the requests in this category.
Dead Images: A group of our images have retreated to the darkness of the Keyhole. Do you have an idea for what we should do with them?
List Talk Pages: With the recent creation of list articles, a lot of talk pages are now going unnoticed. Help us figure out how to use them!
Gameplay Galleries: Help add a new section to our various character galleries!
Org art: Prove your endurance and find a home for our artwork of the notorious Organization 13!