Replica Program
Talk

8
980pages on
this wiki
There must be something wrong with the parts those imbeciles brought me.

This article requires some cleanup or improvement.
You are welcome to help by editing this page. Please follow the Manual of Style and Editing Help to get started.
The Replica Program was a planned series of experiments conducted by Vexen under Xemnas's orders, with the forced help of Naminé during the events of Kingdom Hearts: Chain of Memories . He attempted to make Replicas of Keyblade wielders Sora and Riku in the event that the original Sora proved to be useless to Xemnas's plans for Kingdom Hearts.
The first replica created by the program was Xion[1]. However, after Xion's defection and her death by Roxas, Xemnas discontinued the program. Before Xemnas ended the Replica Program, the Riku Replica was created and pitted against the two Keyblade weilders accending the floors of Castle Oblivion before meeting it's demise. In the Secret Reports it mentions another inferior, numberless replica that was taken to Castle Oblivion; hinting that this replica was not made from Sora's leaked memories. The Secret Reports in Kingdom Hearts 358/2 Days also reveal the existence of other unused replicas.
Products
Xion
Xion was created by Vexen out of Sora's memories. She held these memories which would stop Sora from being able to awaken from his slumber. Xion, being made out of Sora's memories, could wield a Keyblade, something Organization XIII wanted. This would make it so Organization XIII had two among their ranks that could wield the Keyblade and collect hearts to form Kingdom Hearts.
She was seen by some as only a puppet, while only Roxas and Axel called her a friend. Her appearance varied depending on who saw her. For example, Saïx saw her as only a puppet, Xigbar saw her as Ventus, Roxas and Axel saw her as herself, and Xemnas saw her as what she really was, a imperfect copy of Sora. She was destroyed by Roxas, and the program was stopped shortly after her defeat. It should be noted that before Roxas fought her he also saw her as Sora.
Riku Replica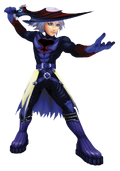 The Riku Replica was created by Vexen, shortly after Xion. He created this replica after sampling the real Riku's memories. Vexen used this replica to fight both Sora and Riku in Castle Oblivion. The Riku Replica was cursed by the fact that he was a fake, only a copy of someone else, and always fought to get rid of Riku, exactly what the Organization wanted. He met his demise by Riku shortly after coming in terms with him, and was swallowed by the darkness after being defeated.
Notes and References
↑

Xion's name is an anagram for "No. i"