Looking for ways to help out? Why not have a go at some of the projects below?
The End of Jpgs: Are you able to convert .jpg images into .png format? Have a go at ridding the Keyhole of .jpg images!
Moving Articles to Lists: To complete our merger with our sister site khwiki.net we need help merging our articles! Are you the person for the job?
Project χ: Kingdom Hearts χ is here, and we need your help to get the information and images we need.
Dead Images: A group of our images have retreated to the darkness of the Keyhole. Do you have an idea for what we should do with them?
World Cards: Coding masters needed! The World Cards page needs a lot of work done!
Org art: Prove your endurance and find a home for our artwork of the notorious Organization 13!

The featured user for December is Chainoffire, who has made a total of 10,916 edits on The Keyhole! Over the past 6 months or so Chain has been SERIOUSLY stepping up his game to a whole new level. He is by right the pulse of this wiki. Chain not only works tirelessly to keep this wiki afloat and alive, but he is also a fellow terminator in the JPG Genocide. Plus he's the ruler custodian of the Underdrome! When he isn't kicking a** butt and taking names, Chain acts as the welcoming committee for new users and is the first to help anyone who asks for it. Chain is not only a great editor but also a great friend who is extremely fun to talk to about anime or anything else really. As an anime lover like the rest of our staff, Chain has an anime review page where he has reviewed countless anime. His favorite anime series is Fate/Zero! Congrats Chain and keep up your amazing work!!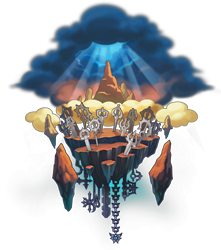 "On this barren soil, Keyblades of light and darkness were locked in combat, as a great Keyblade War raged. Countless Keyblade wielders gave up their lives, all in search for one, ultimate key"
The Keyblade Graveyard is a world that appears in Kingdom Hearts II Final Mix, Kingdom Hearts Birth by Sleep, and Kingdom Hearts Birth by Sleep Final Mix. It was first revealed in the secret ending of Kingdom Hearts II, "The Gathering". (more....)

Recently featured: List of Unversed - Halloween Town - Mickey Mouse