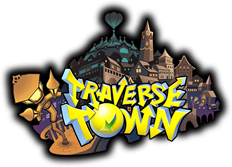 The First District
Welcome

User

, to The First District, where you can get links to helpful pages and find other pieces of information that may improve your time at the Keyhole. Have a look around and see what you can find!
The Second District
The Second District is home to important wiki community pages. Explore this district to find our editing and discussion hot spots!
The Gizmo Shop
Projects Page - Help the Keyhole improve by taking on one of the projects listed on this page.
Stickied Threads - Check out all the forums the staff believe users should read. Get involved in the conversation!
The Third District
Sneaking through The Third District, you'll be able to hear all the latest Keyhole news!
The Mystical House

Catch up on all the important Keyhole and Kingdom Hearts series by browsing through the logs in our very own...




Jiminy's Journal




The Secret Waterway

Each quarter the Keyhole hosts a forum for all users to get together and discuss wiki related issues. Come join the discussion at our...




Tea Parties