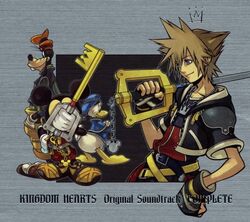 Kingdom Hearts Original Soundtrack Complete is a video game compilation album that contains music from all the games in the Kingdom Hearts series prior to the release of Kingdom Hearts 358/2 Days, Kingdom Hearts Birth by Sleep, and Kingdom Hearts coded. It is a total of nine discs and 229 tracks including previously unreleased tracks.
It was released in Japan on March 28, 2007 by Toshiba-EMI. It has yet to be released in North America and Europe. It was recorded at the Tokyo Opera City Concert Hall.
The package and a deluxe booklet was designed by the series' director and character designer, Tetsuya Nomura with new illustrations and comments from Yoko Shimomura. It also came with a special CD carrying case that features Sora and Roxas.
Discs
Track list
Notes
Ad blocker interference detected!
Wikia is a free-to-use site that makes money from advertising. We have a modified experience for viewers using ad blockers

Wikia is not accessible if you've made further modifications. Remove the custom ad blocker rule(s) and the page will load as expected.